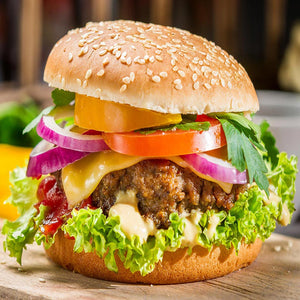 Enjoy the heavenly taste of a tasty SUPERBEEF Lean Ground beef.
Serving suggestions
Make Hamburger Patties – See "Juicy Hamburgers" under Recipes.
Warm the buns – Enhance the flavour by grilling or toasting.
Melt the cheese on the hamburger while it is still cooking.
Season with salt and freshly ground pepper after the hamburgers come off the heat.
Use fresh, crispy complimentary salad ingredients.
And don't forget you favourite BBQ sauce – See Recipes!
Assemble your hamburger customized to your liking.
The healthiest beef you will ever eat!