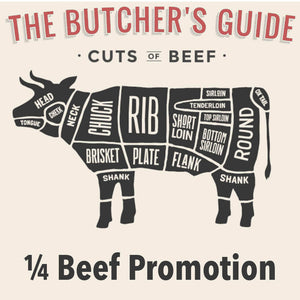 Make Your Deposit For A Quarter Beef

Once we receive your deposit, you'll be added to the queue for a quarter beef on our most recent or next butcher date.
What is in a Quarter Beef?
We take all the guess work out for you by including EVERYTHING below in our prices:

-dry-aging
-butchering
-professionally vacuum sealing
-labelling
-boxing
-delivery directly to your door
(90 lbs)
(IMPORTANT INFO: This is in your freezer weight)
Here are all the cuts you'll get:
Roasts (12 lbs total):
1 Rump
1 Chuck
1 Sirloin Tip
1 Cross-rib
Steaks (8-9 lbs total):
4 Ribeye
4 New York
2 to 4 Sirloin
2 to 4 Tenderloin
Lean Ground Beef (40 to 45 lbs):
comes in 1 pound packs
Stew Beef (3 lbs total):
comes in 1 pound packs
Short Ribs (2 lbs total):
1 to 2 packs of Ribs
Front Point Brisket (3-4 lbs total):
Half

Sausages (in 1 lb packs; 8 lbs total):
8 Cheese Smokies
12 Frying Sausages
16 Honey Garlic Pepperoni Sticks
24 Maple Breakfast Sausages
1 Bag of Broth/Dog Bones:
10 lbs
Important Note: Every beef is different and yields different sized cuts. The amount of each cut you get will depend on the size of the animal.
*We have a 100% unconditional satisfaction guarantee... so you can have peace of mind when you buy*