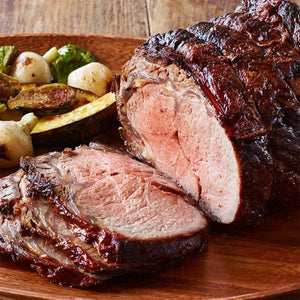 Enjoy the tender and tasty goodness of our SUPERBEEF Cross Rib Roast.
IMPORTANT: Please follow the cooking instructions below!
Cooking Tips
Allow meat to thaw naturally in the refrigerator.
Allow it to rest to room temperature prior to cooking.
Unless you are braising the cut with moist heat, grass fed beef should, at the longest, be cooked to medium only.
For the most tender and tasty experience, cook the Cross Rib Roast to medium rare!
The Cross Rib Roast can also be braised.
Cooking Times
Roasting time is approximately 20 minutes per pound.
Preheat the oven to 450℉. Put the roast in the hot oven for 15 minutes.
Reduce heat to 350℉ and cook for another 40-50 minutes, until meat thermometer reads 130℉ (rare) to 140℉ (medium).
Remove from oven, tent with foil and let stand for 15-25 minutes.
Serving suggestions
Slice thin to serve.
Serve with mashed potatoes, roasted carrots and onions.
✔︎

Tips
Save the roast drippings to make the gravy (deglaze the roaster and prepare the gravy in the same roaster).
For extra flavour, use strained potato water and add as needed to the gravy instead of water or broth.
The healthiest beef you will ever eat!