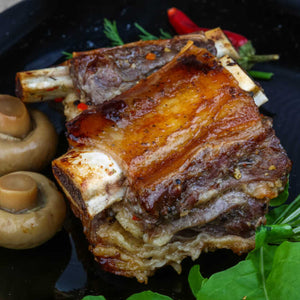 Enjoy the tender and tasty goodness of our SUPERBEEF Short Ribs.
Serving Suggestions
Traditionally, beef short ribs are braised.
Braising is a combination of dry and moist cooking methods where you sear the meat and then bake the meat in a liquid.
You can also cook your short ribs in a slow cooker for great results with even less work!

Teriyaki BBQ Short Ribs
Prep time: 10 minutes
Total time: 8.25 hours
Ingredients
2lbs Short Ribs
2 cups BBQ Sauce
1 cup Teriyaki Sauce
Brown sugar
Sesame Seeds
Salt and pepper
Cooking
Season short ribs on all sides with salt, pepper, and brown sugar.
Combine teriyaki sauce and BBQ sauce.
Place the short ribs in the slow cooker, fat side up, and cook on low for 8 hours.
Once done cooking, remove short ribs from slow cooker.
Serve over rice or mashed potatoes. Garnish with sesame seeds and more sauce, if desired.
The healthiest beef you will ever eat!