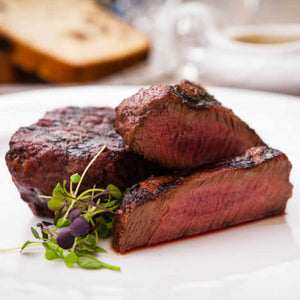 SUPERBEEF Tenderloin Steaks are a very thick, beefy and flavourful steak that is tender.
When it comes to grilling steaks, keeping it simple is the best approach.
IMPORTANT: Please follow the cooking instructions below!
No matter what cut steak you use, this simple, easy King Cattle Company Steak Marinade will make that steak melt in your mouth and be great with any meal!
Whether you get out the BBQ, or prefer to fry your steak in a pan, you will love this recipe.
Recipe for Steak Marinade
Place King Cattle beef on a cookie sheet or any large pan with a lip.
Sprinkle both sides liberally with sea salt.
Marinade the meat for 6 to 24 hours in the refrigerator, turning occasionally.
The longer you marinade the King Cattle beef steak the better the flavor!
Remember when cooking, the less you turn it, the better. It will keep more of its juices.
Ingredients
3 Tbsp Red wine vinegar or Balsamic Vinegar
4 Tbsp Worcestershire or Bragg sauce
3 Cloves of crushed/minced garlic
2 Tbsp Steak spice (Montreal is nice)
2 oz olive oil
Mix together and pour over steak.
Cooking
Sear your steak for only ½ minute per side
Remove from direct heat – So its not above a burner that is on
Reduce heat to 395℉ (200℃) PLUS but not above 550℉ (300 ℃).


Allow more time than you would a commercial steak.

Cook slowly and check often until steak reaches desires doneness.

Cook it Low and Slow!
The healthiest beef you will ever eat!